Starting in Firefox 70, Mozilla aims to have the browser report when any of your saved logins were found in data breaches. This will be done through their partnership with the Have I Been Pwned data breach site.
Mozilla is slowly integrating their independent Firefox Monitor service and the new Firefox Lockwise password manager directly into Firefox. Mozilla is also considering premium services based around these features in the future.
As part of this integration, Firefox will scan the saved login names and passwords and see if they were exposed in a data breach listed on Have I been Pwned. If one is found, Firefox will alert the user and prompt them to change their password.
This new feature will only work, though, for data breaches that exposed passwords and when the password was saved prior to an associated data breach.
When a saved login is detected as being part of a breach, Mozilla will add an alert icon

next to the account profile in Firefox Lockwise as shown in a mockup from Mozilla below. Clicking on the saved login will open its subpanel that displays an alert that the "Passwords were leaked or stolen" as part of a data breach.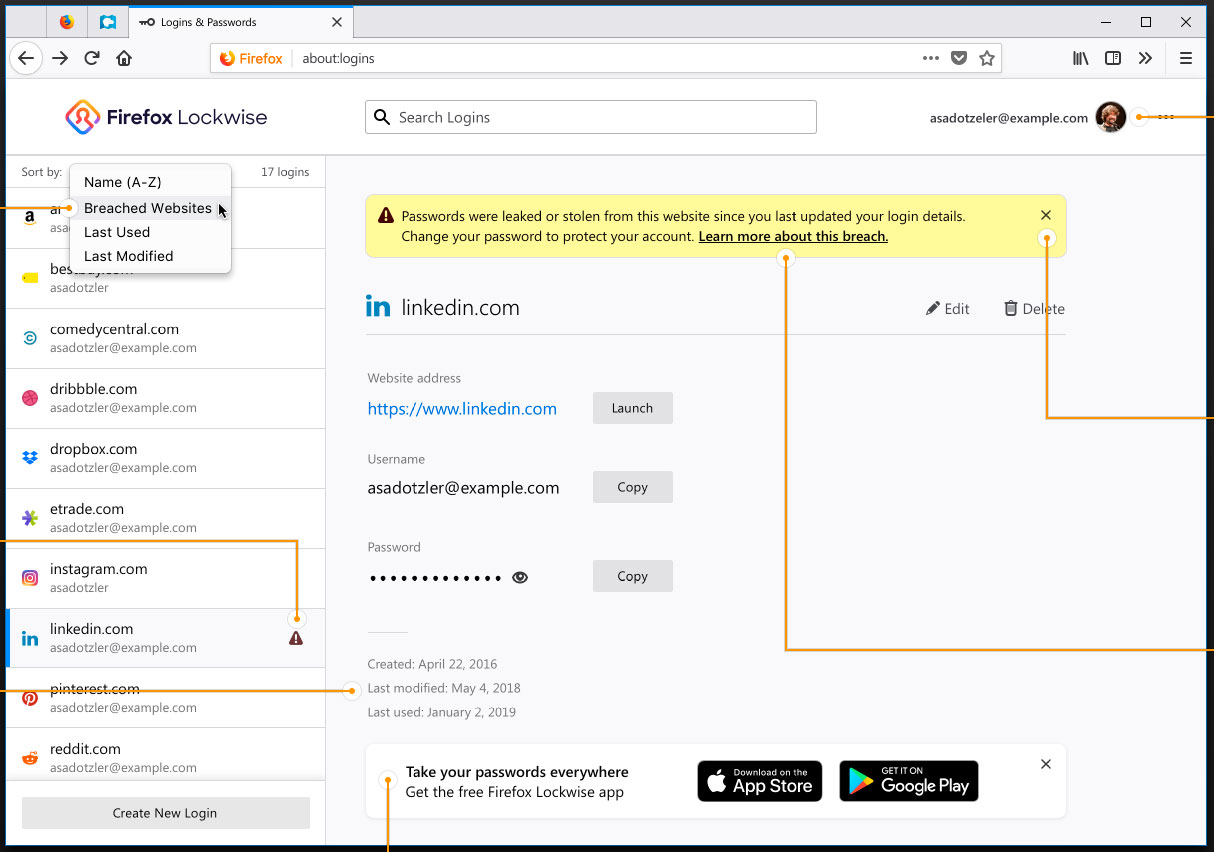 Mozilla will also plans on displaying stats for the amount of data breaches your logins were involved in the browser's upcoming protection report. This protection report will eventally be available at the about:protections address.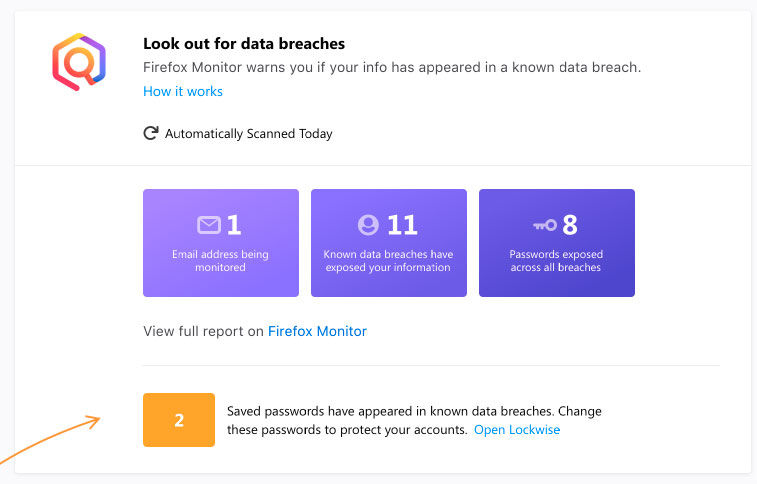 While the open bug reports indicate that Mozilla is targeting all of these new privacy and security features for Firefox 70, it is possible they will not be ready in time. Furthermore, as Mozilla has told BleepingComputer in the past, all of these features, their wording, and functionality may change as they are being developed.

H/T TechDows.com
Related Articles:
Mozilla Makes Firefox its Own Brand Name, Releases New Logos
New Privacy Features for Mozilla Firefox, Lockwise Is Live
Firefox Lockwise Aims to Revamp Browser Password Management
Firefox About:Compat Page Shows Fixes for Reported Site Issues
Mozilla Firefox Adding a New Social Tracking Protection Feature