In a press conference in the White House Rose Garden, President Trump announced that Google and 1,700 of its engineers are working on a new web site devoted to information about Coronavirus. President Trump and Vice President Pence stated that this site would allow people to enter their symptoms and determine if a test was needed. If a test is recommended, the site would then direct them to the nearest location that is offering Coronavirus tests. To help facilitate the testing for Coronavirus, Walmart, CVS, Target, and Walgreens have announced that they will be volunteering a portion of their parking lots to be set up as drive-through Coronavirus testing sites.
These locations would allow people to drive up and receive a test without having to leave their car.

Vice President Pence said that more information about the availability of Google's site will be ready this weekend. "By this Sunday evening, we will be able to give specific guidance on when the web site will be available. You can go to the web site, as the President said, you type in your symptoms and be given direction whether or not a test is indicated. And then at the same web site, you will be directed to one of these incredible companies that are gonna give a little bit of their parking lot so that people can come by and be given a drive-by test," Vice President Pence stated.
Soon after this press conference, the Google Communications Twitter account stated that another Alphabet company named Verily is in the early stages of creating a tool for testing in the San Francisco Bay area, with possible expansion at a later date.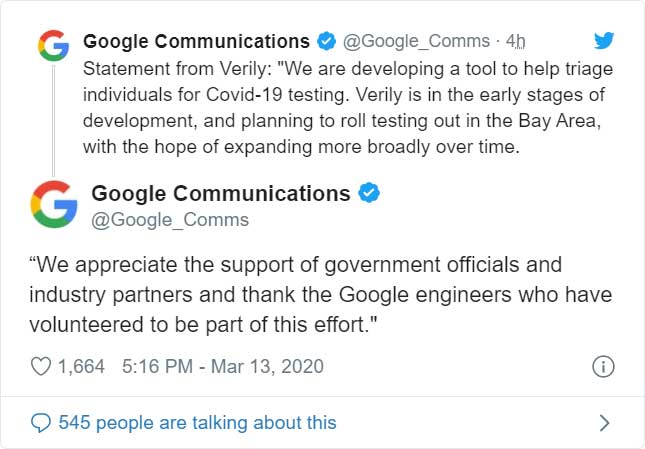 This tool, though, is not being designed for nationwide access and it not ready as of yet.
This press conference can be seen below.
Update 3/14/20: This story has been updated to reflect Google's statement that they are not creating a nationwide web site.
Related Articles:
Microsoft, Google Offer Free Remote Work Tools Due to Coronavirus
COVID-19 Testing Center Hit By Cyberattack

PornHub Helps Italians Stay Indoors with Free Premium AccessNew CoronaVirus Ransomware Acts as Cover for Kpot Infostealer

Discord Offers Enhanced Go Live Streaming Due to Coronavirus