Google has removed the Dashlane password manager extension used by over 3 million users from the Chrome Web Store due to issues with 'User Data Privacy/ Use of Permissions'. On Saturday, February 8th, Dashlane posted to the service's status page that their Chrome extension was removed from the Chrome Web Store and can not be downloaded. "[Investigating] Currently, our Extension cannot be downloaded from the Chrome Web Store. This issue have no impact on users that already have our Chrome extension installed and running. Only users needing to download our Chrome extension for a first time install or a reinstall will encounter the issue. We are working actively with Google to have it back as soon as possible. Thank you for your patience and understanding," Dashlane's status page states.
In a post to Google's Chromium Extensions support group on Monday, Dashlane Senior Engineering Manager Thomas Guillory stated that they received a warning email on Friday about the extension's use of permissions and was told they had 7 days to resolve the issue.

After replying with the reasons for the use of permissions, the extension was removed within 24 hours without an explanation.

Our extension (Dashlane Password Manager, 3M+ users, ID: fdjamakpfbbddfjaooikfcpapjohcfmg) has been removed from the store on Saturday morning. The reason invoked is User Data Privacy / Use of Permissions. Indeed we are using a very powerful set permissions, but they are needed for Dashlane to work on everywhere. However we are in the dark for the next steps:
- We don't know exactly what permission is causing the problem. Can you be more specific and provide assistance to resolve the issue?
- The extension has been taken down very quickly. We received a first email on Friday (stating that we have 7 days to fix the issue). We reacted instantly by filling the permission justification form and pushing a new version. This apparently had no effect, the extension has been removed 24h hours after. Can you reinstate the extension while we are discussing the issue?
While it is not clear what permissions Google has an issue with, the extension uses a very broad permission set that allows the extension to read and change data on websites, control private settings, apps, extensions, and themes, and communicate with native apps running on the computer.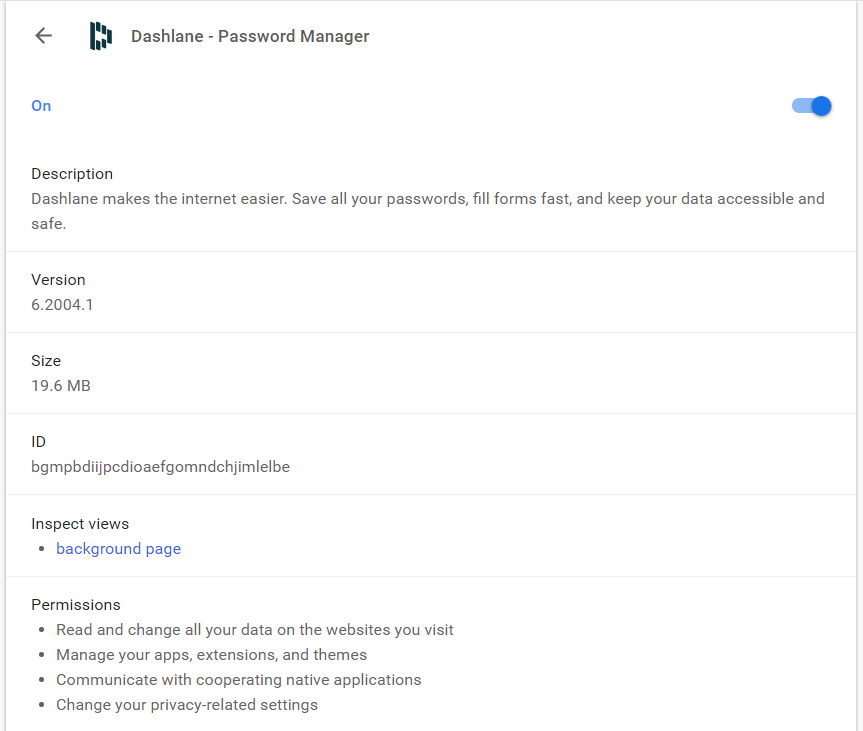 The permissions used by Dashlane are:
Read and change all your data on the websites you visit
Manage your apps, extensions, and themes
Communicate with cooperating native applications
Change your privacy-related settings
In comparison, the LastPass password manager extension has far fewer and less intrusive permissions:
Read your browsing history
Display notifications
Google has stated in the past that to remove intrusive and malicious extensions they introduced stricter policies and are requiring extension developers to use permissions as "narrowly-scoped as possible".
"Your extension's permissions should be as narrowly-scoped as possible, and all your code should be included directly in the extension package, to minimize review time."
It is not known what permission Google has an issue with, but a recent update to Dashlane's status page stated that they are working with Google to get their extension available again.
"Our extension will soon be back in the Chrome Web Store. We are working with Google to give the green light. We apologize for the delay and we thank you again for your patience and for your understanding!"

Update 2/11/20: Both Google and Dashlane have told BleepingComputer that the extension is back in the Chrome Web Store.

Dashlane stated that they "fell afoul of an automated bot, but we're back up after we were able to speak to a human at Google."

H/T TechDows.com
Related Articles:
Google Chrome to Block Mixed Content Downloads, Prevents MiTM Attacks
Google Chrome Tests Replacing URLs With Search Queries in Address Bar
Google Chrome Gets Improved Tab Feature, Thanks to MicrosoftGoogle Chrome Adds Protection for NSA's Windows CryptoAPI FlawGoogle to Kill Chrome Apps Across All Platforms