Mozilla plans on adding a new dedicated social tracking protection component to their tracker protection system. This feature is currently under development, but is targeted for the Firefox 70 release.
According to a Mozilla bug report, a tracker protection for social sites will be moved into its own category named "Social media trackers". Based on mockups found by BleepingComputer, social tracking protection will be enabled by default in the Standard setting, but Firefox will not aggressively block all trackers that could break the functionality of a site.
Furthermore the mockups show that Firefox's current Content Blocking feature will be renamed to "Enhanced Tracking Protection" as seen below.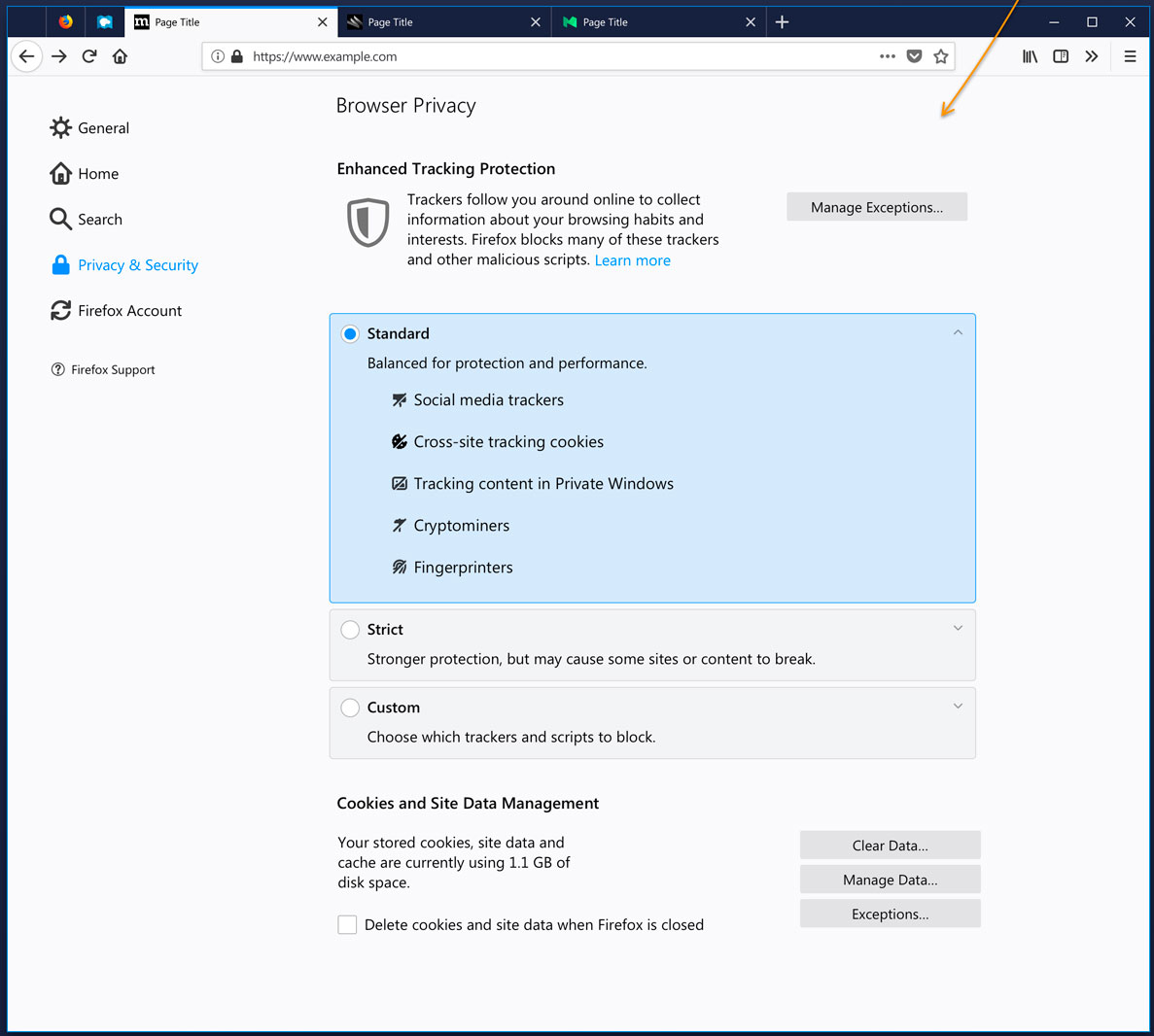 According to Mozilla's social-tracking-protection-blacklist.json file, the social tracking protection feature will initially block trackers on domains related to the following social sites or services.
Facebook
Occulus
Instagram
Facebook Messenger
WhatsApp
Twitter
TweetDeck
LinkedIn
YouTube

When social media trackers are blocked, users will be able to open the Tracking Protection Panel and then click on the new Social Media Trackers category to view a subpanel that displays blocked social site trackers.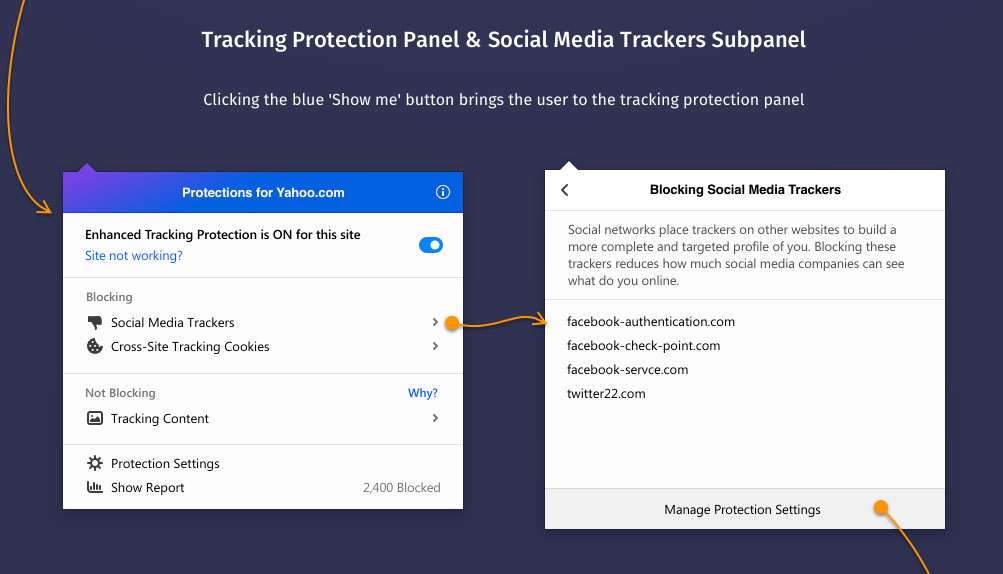 To promote the social tracking protection feature, under certain Firefox will display a doorhanger that explains that a social tracker was blocked. According to the design mockup, these doorhangers will be shown only after the fourth page load of a social site, social media tracker blocking must be enabled, no other doorhangers have been shown in that session, and it will only be shown 50% of the time.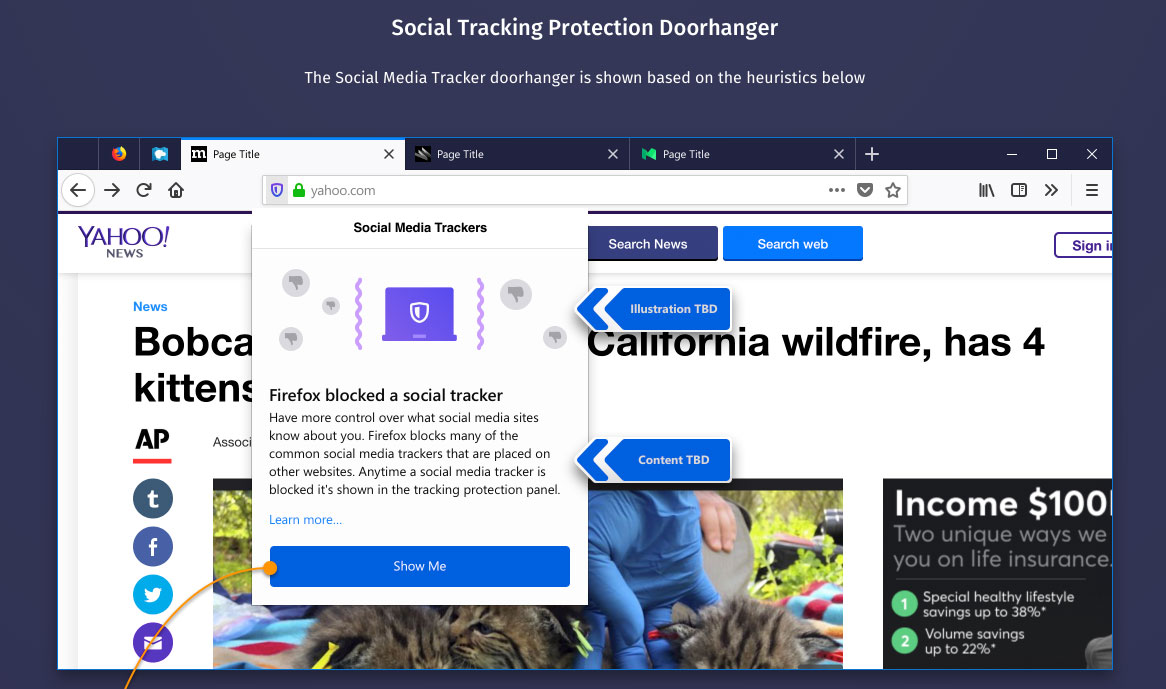 Below is an example flow illustrating how a doorhanger would be shown.

Firefox plans on also showing doorhangers for Enhanced Tracking Protection features, including for Fingerprinting, Cryptominers, and Cross-Site Tracking Cookies. For Fingerprinting and Cryptominers, a doorhanger will be shown using the same criteria as above, but 100% of the time rather than 50%.

While social tracking protection is definitely being actively developed with a goal of Firefox 70, it should be noted that the above images are mockups only.

Furthermore, Mozilla has told BleepingComputer in a statement that all of these changes and enhancements are not set into stone and may not make it into the final product.
"At Mozilla, we work in the open. Sometimes, it happens that the things we are testing and considering are made public prior to any final determination of what will ultimately become part of our product and service offerings. Until we make a public announcement or you see it appear in the general release of Firefox or other products, there is no guarantee that an experimental feature or experience will make it into the Firefox product offerings."
Related Articles:
Mozilla Firefox Protection Report to Show Blocked Tracker Stats
Tech Art Piece Delivers Quick Fix For Social Following Hoarders
Tor Browser 8.5.2 Released to Fix Critical Vulnerability
New Privacy Features for Mozilla Firefox, Lockwise Is Live
Mozilla Firefox 68 Released With Security and Extension Enhancements